Vacuum Sleeves
Originally designed to provide a simple method to remove loose scrap from fabricating dies by converting compressed air into a vacuum. Twelve (12) sizes are available with vacuum passages ("A" diameter) from 3/16" to 2.0". these vacuum sleeves are recommended for applications that do not require high vacuum levels where the primary concern is the induced vacuum flow of atmospheric air through the system.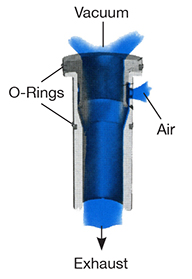 How Do Vacuum Sleeves Work
• Compressed air is forced to flow through the circular orifice, creating the required vacuum.
• The center chamber is the vacuum passage and allows removal of solid materials which passes through the Vacuum Sleeve without disrupting the vacuum flow.
• O-rings, which seal compressed air, allow liberal machining dimensions for installing Sleeves.