316 Stainless Steel: HAVRSS & HAVSS Series
Corrosive Resistant Vacuum Pumps provide unique advantages for aggressive or sterile environments. Virtually indestructible with no moving parts, seals or gaskets for maintenance-free usage.
• Air Sampling/Gas Analyzing Systems
• Exhaust Removal of Corrosive Vapors
• Sanitary Washdown Applications
• Transport of Abrasive Materials
• Perfect in Volatile Areas
• Available with male or female threads

Wide Range of Performance:



• HAVR Series: Vacuum Flow .16 to 1.7 scfm, Vacuum Levels 18 to 27.5"Hg.
• HAV Series: Vacuum Flow 1.7 to 29.0 scfm, Vacuum Levels 7.5 to 27.5"Hg.

When choosing from the chart below please consider:
"M" Series produce MEDIUM vacuum levels for low air usage
"L" Series produce LOW vacuum levels for lower air usage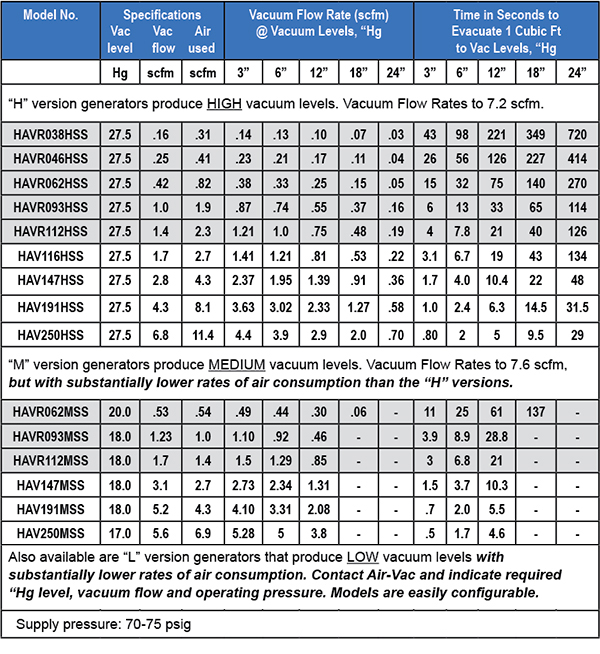 Full Dimensions

HAVRSS Series - Models 038 to 112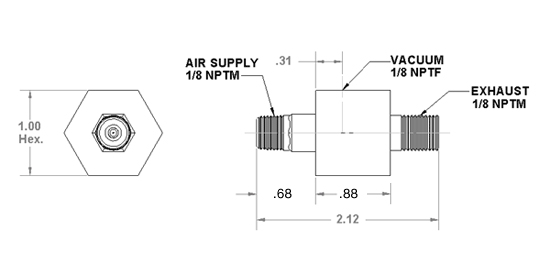 HAVSS Series - Models 116 to 250







How AV Series Works
Compressed air flows through a small circular opening to generate a high velocity. This air expands, resulting in decreased pressure to provide vacuum levels up to 27.5"Hg. The vacuum port is perpendicular to the air supply.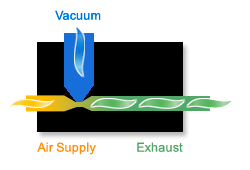 Performance Considerations
for Minimal Air Usage

Vacuum Levels
Depends on the application,
High, Medium, or Low:
• Select an H Model when
maximum vacuum level is
required, 25-28"Hg
When lower vacuum levels
satisfy the requirement:
• Select an M Model for 15-20"Hg
• Select an L Model for 8-12"Hg
This results in a substantial reduction in air usage.

Vacuum Flow
Substantial vacuum flow is developed at low operating pressures when using
Models H, M or L.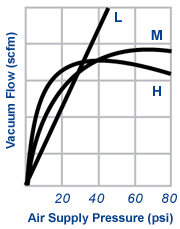 • Initially the curves are very steep.
The operating pressure at 40-50 psi
provides maximum vacuum flow.

• Higher pressures do not increase the vacuum flow but will increase
air usage.



Applications

Selecting the minimum vacuum level and lowest operating pressure in the following applications
will minimize air usage:

• Leak Testing
• Labeling Machines
• Paper Feeding Systems
• Printing Presses
• Vacuum Chucks
• Sheet Metal Lifters
• Packaging Machinery
• Encapsulating
• Food Processing Machinery
• Air Sampling
• Dental Equipment
• Gas and Liquid Mixing
• Air Cooling


3D CAD Models
> HAVR Step
> HAVR IGS
> HAVR PDF