Ultra Vac Series
Air-Vac's Multi-Stage UV Series provides near perfect vacuum of 29.7"Hg.

Used to evacuate chambers, degas liquids and in other processes requiring vacuum levels of 1/4"Hg absolute (8Torr). Also used as the first stage pump in applications requiring high vacuum to reduce operating time of expensive high vacuum pumping systems.Increase pumping speed above 25"Hg vacuum level.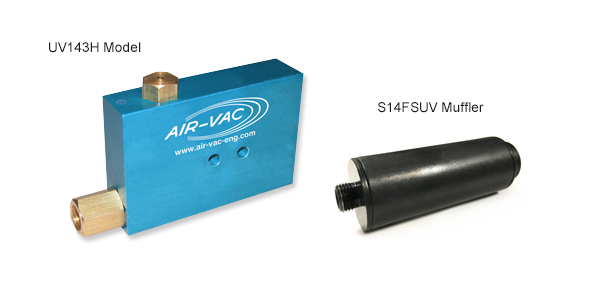 Full Dimensions
> Download Specs PDF file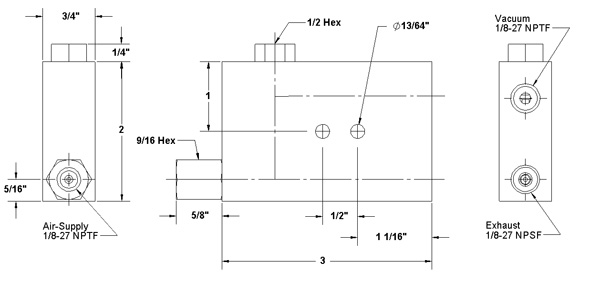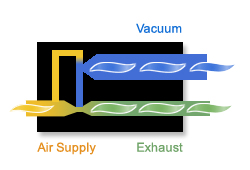 How UV Series Works
• The UV143H uses two venturies acting in tandem to generate very deep levels of vacuum.
• Compressed air flows into the two venturies.
• The exhaust from the smaller one is directed into the vacuum chamber of the larger venturi, which directs the entire flow of air into the atmosphere.
• Since the smaller venturi exhausts into a pressure chamber that is lower than atmospheric, it can attain a vacuum level down to 29.7"Hg - a vacuum level not attainable by a conventional single stage vacuum generator.
Need Something Special?
We Build Custom Vacuum Generators to Your Specs!
• Single and Multi Stage with straight through vacuum passage...
Lowest possible air usage!

• Multiple vacuum levels with near
perfect vacuum of 29.7"Hg...
Exact specifications!

• Special shapes blend with your product -
various materials and connections...
Custom made for you!

• Internal installations, close to where the vacuum is required...
Integral part of your product!


Applications
• Evacuate Gas Chambers
• Degas Liquids or other processes