• The graph shows typical Vacuum Flow curves for most
of the small size inserts.
• Note that all curves indicate the Vacuum Flow is
quickly developed and has a steep slope.
• Lower pressures of 20-30 psi provides 70-80% of maximum flow and will minimize air usage.
• Maximum Vacuum Flow occurs at 40-60 psi.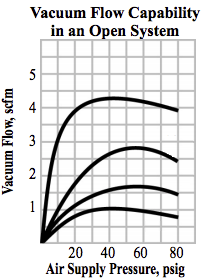 Custom Vacuum Sleeve Inserts
Configuration of inserts is very flexible. Various materials are available. Send us your requirements.